|| CLICK ON IMAGE TO CHECK IT OUT/ BUY ! ! ||
DISCLAIMER: I am not being paid to say any of this, I would just like to share my thoughts on this display tablet for the sake of many artists who are on the hunt for a display tablet to enter into the digital world of art.
I have owned this tablet for months now, and while I cannot physically compare it to Wacom Cintiq and MobileStudio tablets, I can garantee you that XP-Pen Artist has been an amazing alternative, and most importantly it's one of the most affordable, like Huion Display Tablets! I'm honestly more blown away than I expected. Between the XP-Pen and my previous Intuos Wacom tablet, it's night and day so let's get to it!
Note that Wacom tends to be quite expensive considering their quality of products and features; but in my opinion, for any beginning artist and for anyone who wants a cheaper yet functional alternative, the XP-Pen is definitely a miracle goldmind if you love illustrating on a screen. Also know that just because you can't afford a display yet, doesn't make you any less of an artist; Creation is limitless!
Whether a chargable stylus is a pro or con is really up to you as an artist, storyteller. However to me, a battery-free pen definitely saves so much time from charging, it's quite a blessing! The stylus itself and pen holder and is very self-explanatory. The ratio from thin to thickness is still mesmorizing, to go from stroking ever so lightly on the screen to pressing harder for thickness to your desire.
|| WHERE TO DOWNLOAD XP-PEN DRIVES ||
NOTE: Make sure to get the latest update for your XP-Pen! Sometimes they do include a CD in the package but otherwise you can always find the downloads you need here according to which XP-Pen you bought.
CLICK HERE TO CHECK DOWNLOADS. 

A computer/laptop is required to use a display, there is no pen computer from the XP-Pen brand yet, but let's hope they do! The setup is quite simple, depending on your computer and how much power needed, you MAY NOT need to use the RED USB  PLUG. I have tried powering my tablet without the plug but it just turns off after a few seconds, so in my case I use an adapter and plug it into an outlet for more power.
NOTE: Some computers do have more than one HDMI port, some don't, which is my case! If you happen to have the same issue, you can simply buy a DVI HDMI ADAPTER to plug your HMDI plug in; this is how it would look like, living in Hong Kong, it only cost me $35-40; in USD this would be 3-4 bucks so I suggest you purchase one while waiting for your display tablet to deliver.
|| THE DISPLAY ||
Now this took me a while to process but once you make a few tweaks it'll all make sense!
This is the display setting for both my displays; my display tablet is set to my first monitor, my computer is my second monitor, yours may be the other way around depending on you. But the most important part is the SCALE AND LAYOUT; Keep your SIZE OF TEXT, APPS, AND OTHER ITEMS to 100% and keep Display Resolution the same. If these aren't set properly, the cursor of your mouse won't align with where you direct your pen on your display tablet.

Once everything needed is downloaded, and set up, you can look through the Pen Tablet settings by clicking on the icon which you would surely find on your desktop, or in your hidden icons in the taskbar! You have the advantage to change the pen pressure sensitivity, brighten up the display, tweak express keys to your liking and last but not least, calibrate.
If you feel the cursor is not aligned with your pen, click on CALIBRATE to do a display test. You are told to tap your pen on each corner and the middle of the display, once you're satisfied then cool! If not, you can always go back to do it again.
Pretty cool tablet so far right? I hope I have been informative so far, I'm not exactly the expert on reviews, but I'm willing to share a product I'm happy buying. But of course there are no pros without the cons.
|| THE PROS OF THE XP-PEN DISPLAY TABLET ||
AFFORDABLE: To any begginning artist, who would want to save up for a display tablet; Like I said before, Cintiq and Mobilestudio tablets are very expensive, and if you wish to have those display but can't aford it, then the Artist 15.6 is definitely for you! Even just the Wacom Intuos Pen Tablet alone can cost $199.95-329.95 USD, imagine if you can get the XP-Pen at that same price but it includes a screen! It's as affordable to another Cintiq Alternative, Huion which I will provide links later below.
DISPLAY FEELS LIKE MATTE PAPER: When you're an artist that started with a pencil and paper, you enjoy that feel of that paper against your hand as you sketch. Drawing an the display tablet gives you that exact paper feel, minus the pencil smudges! Instead, you do leave some smudges of sweat on the screen but because of an included handy dandy smudge glove, you don't have to worry. However in my case, I'm not as comfortable wearing gloves so I just give my tablet a nice daily clean, before and after use.
SIMPLE, THOUGHTFUL, CONSIDERATE SETUP: A lot of thought was put into XP-Pen, especially the instructions and extra knick knacks for the display such as three different types of adapters of your choosing; this includes a cable for Apple Computer users! There are even labels on the 3-in-1 cable to instuct you which plug is which. And if you have any problems, they have a very helpful 24 hour costumer service, and can always get a replacement if something were wrong with your tablet. This company shows they care for the products they crate for their demographic, admittedly very rare to find. On a side note, they even leave a nice thank you card for purchase.
BATTERY-FREE PEN: Compared to many display tablets, most of them are rechargable pens, which I wouldn't mind either. But having a pen with no need of charging is a gold-mind in my opinion! It sits comfortably on its pen holder (that generously includes 8 nibs)
LIGHTWEIGHT: Fits properly on your lap if you wish to draw that way! There are rubber pads on the back of the tablet to keep it still, and not slip off your knees or drawing stand. If you may feel 15.6 is too big of a size for you, you can always purchase a smaller size, which you'll find in the links below later.
|| THE CONS OF THE XP-PEN DISPLAY TABLET ||
IT GOES ON AND OFF ONCE IN A WHILE: This may be something you don't have trouble with at all but in my experience, there are days when it will run just fine without shutting off, some days it will; The issue may be the Type C plug for the tablet since it's not exactly the strongest power supply, or it could simply just be my computer being, that it could sometimes fail to give my XP Pen enough power to run normally. Honestly, this is more of an annoyance, and doesn't happen as often. Just be wary if you do use the tablet on an old computer it may turn off and on a couple of times until it works perfectly, otherwise it may just be the Type C plug.
DOESN'T WORK PROPERLY WITH PAINT TOOL SAI: Remember that this is my experience and may not be the same for you! But either way, everytime I turn on Paint Tool Sai in my computer I couldn't even open up a new canvas, as if my pen could not detect the cursor in the program. Compared to Clip Stuido Paint EX, it works perfectly normal. A simple reintstallation or updating the SAI software could fix the problem but otherwise I don't plan on doing so, since I use other programs more anyways.
MAY NOT BE CONVENIENT FOR TRAVELS: Unless you have a laptop along with you if you wish to draw everywhere you go, you may only use the display tablet at home; this is my experience at the moment since there has yet to be an affordable pen computer. This is not exactly a huge problem depending on you the artist, just know to purchase a proper sized bag for your display tablet to fit and also a laptop to power the device up. And again you can always get a smaller display XP-Pen to your liking, I just love a big screen when I'm drawing; hopefully soon I can save up enough money for a laptop to use my Display tablet anywhere!
|| TO CONCLUDE ||
At the end, I'm not really an expert on tablets and reviews, this is mostly based on my first experience with the XP-PEN Artist 15.6. Whether you're interested in a display or not is completely up to you, and what you need in your artistic journey! Whether it's a Wacom MobileStudio, an Intuos Wacom Tablet, an Ipad or a simple pencil, your creation is limitless, all that matters is your passion to keep doing what you love with what you have now. Have fun with your imagination!
If you are interested, CLICK THE IMAGE AT THE TOP TO CHECK OUT THE XP-PEN ARTIST 15.6 or CLICK HERE. Other recommended tablets are shown below!
|| XP-PEN ARTIST 12 ||
CLICK ON IMAGE TO CHECK IT OUT!
|| XP-PEN ARTIST 12 PRO+TILT ||
CLICK ON IMAGE TO CHECK IT OUT!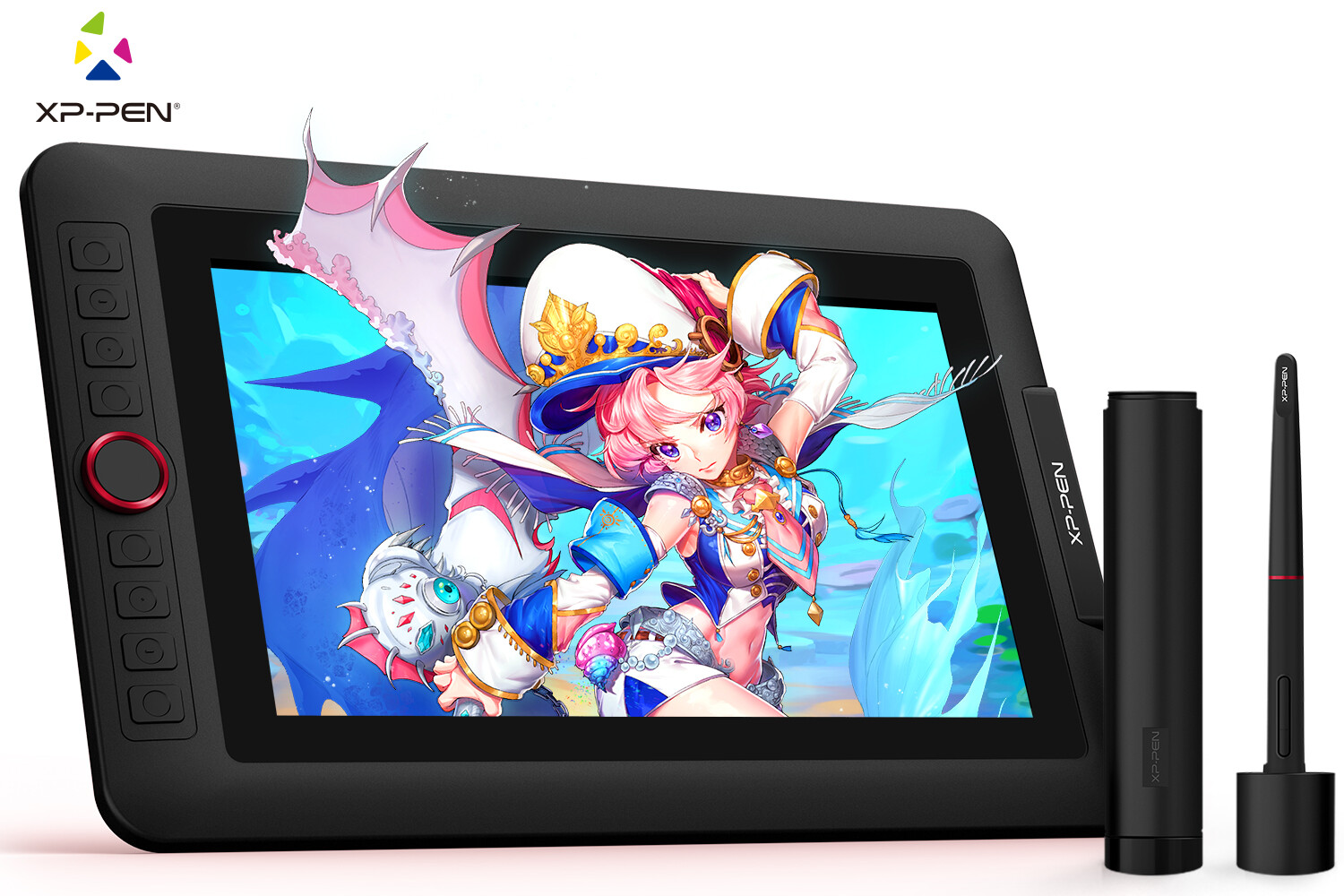 Aliexpress gives out a lot of coupons and has great promotion prices compared to Amazon! And with almost every click, or purchase of any of these tablets, I earn a commission so not only would you get an affordable tablet, you are also helping me get a quick buck once and a while. Whether you buy these tablets or not, thank you for your continuous support; I hope you'll find what you're looking for! Stay fabulous, Madhattey signing off for now~